Spring Snow Goose Hunting
Enjoy South Dakota with professional guides...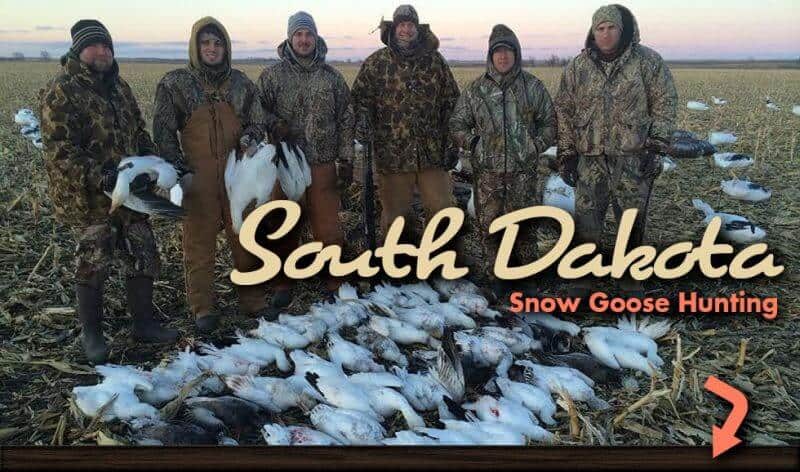 All-Time High Snow Goose Population
Now is the time! Snow Goose numbers are at all-time highs and every waterfowler owes it to themselves to see the spectacular spring migration of waterfowl through the South Dakota prairies.
Experienced South Dakota Outfitter
We over 20 years of experience hunting spring Snow Geese specifically in the Dakotas and work extremely hard to help you have a goose hunt to remember.
We use high quality and custom equipment to decoy Snow Geese consistently for our guests.
We follow the geese as they migrate, moving field spreads to maximize our hunters' opportunities. We provide the blinds, large decoy spreads, etc., and most importantly the experience.
What should I bring?
Hunters need to provide their own guns, shells, and clothing including whites or a Tyvek suit. The weather in South Dakota is highly variable during the spring and you should bring a variety of layers to match.
Since shotguns do not need to be plugged for the Spring Conservation season, most hunters prefer autoloader or pump shotguns with 3-3.5 inch shells loaded with steel #2 through BBB. We recommend that you bring three boxes per day. You might not need them all, but better safe than sorry. Hunters should also bring plenty of snacks and beverages (no alcohol in the field), as we do not provide food or lodging for these hunts.
We will start hunting 30 minutes before sunrise and go over any last minute questions or concerns as safety is always our top priority. We typically take a break for lunch and rest between roughly 11:30 and 3:00 if we are hunting fields.
Hunt Price and Dates
Cost of hunt is: $1,000.00 for adults and $800.00 for those 18 or younger
We offer four-day hunts that are Thursday through Sunday
We typically start our hunts in South Dakota in early- to mid-March and go through the first week of April, depending on weather and migration timing.

Contact us today for more information on our hunts.