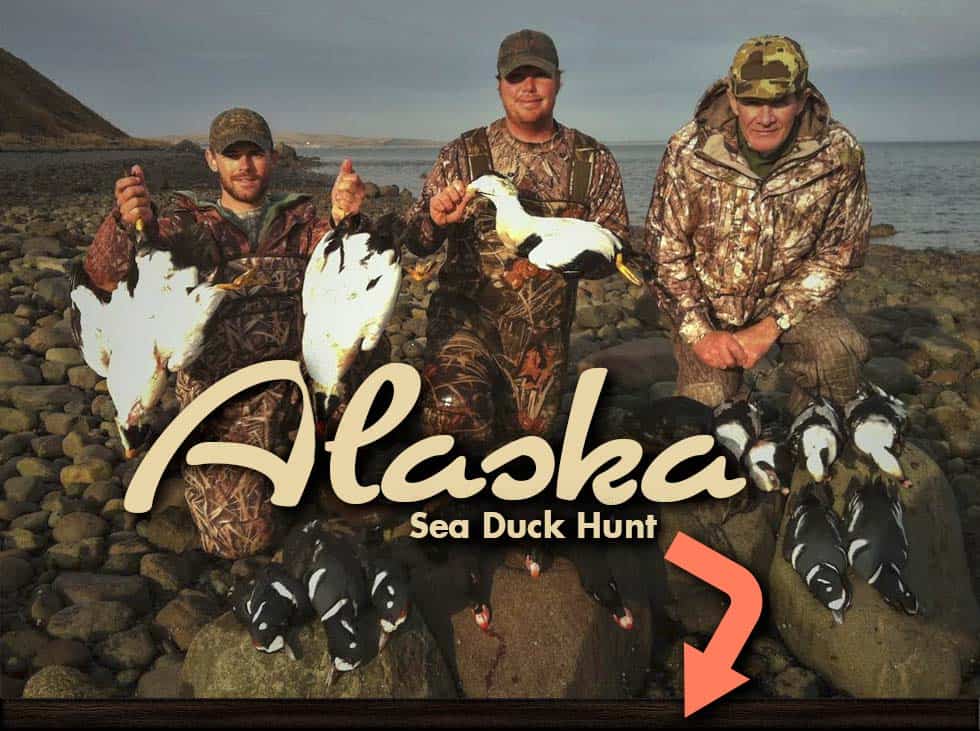 The five most important reasons to hunt for sea ducks and Brant in Cold Bay, Alaska with Four Flyways Outfitters…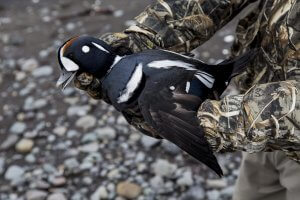 It is a goal of many waterfowlers to hunt Harlequin, Eiders, Scoters and more in wild remote areas of Alaska. Let us help you fulfill your dreams of an unparalleled hunting adventure for sea ducks, Brant, and more in the world-famous Cold Bay and Izembek Lagoon area.
Nowhere else can one hunt for such a wide variety of species and also utilize the finest gear while enjoying the comforts of a fully modern lodge designed for waterfowlers' needs.  Leave your worries behind and trust in our 19 years of experience hunting the Izembek National Wildlife Refuge and Cold Bay. We are commitmented to providing the best waterfowl hunts possible.
#1

 Experience

Captain Jeff Wasley has spent every fall since 2002 in Cold Bay and owns his home and lodge in Cold Bay. We are the only outfitter with a Special Use Permit from the Izembek National Wildlife Refuge that also hunts the Cold Bay area for sea ducks and more September 1 through December 16. Jeff also guides on St. Paul Island for King Eiders through January 22nd. We guide 150+ days a year. Our experience is simply unmatched. We are waterfowlers to the core and know how to produce the best hunts. 

Do not be mislead by guides who over promise and under perform. Do your research and contact the US Fish & Wildlife Izembek National Wildlife Refuge office (907-532-2445) and ask them which guides are permitted to hunt in the Izembek National Wildlife Refuge.

Izembek is the entire point of making this long journey to Cold Bay. You do not want to miss out on being guided in this Wetland of International Importance – finding your way into the heart of this wilderness for an unforgettable experience cannot be done on your own.
#2

 Gear

We have continued to invest in our hunting gear, vehicles, safety equipment, and boats, which are all permanently located in Cold Bay. We successfully guide our guests to over 20 species of waterfowl each year and have all the required gear and transportation needed to have great hunts and get you back safely.

This abundance of gear allows our hunters to hunt in a wide variety of environments and also try new styles of waterfowl hunting including layout boats, large ocean-going vessels, and more.  No one else comes close to our investment in waterfowl gear in Cold Bay.
#3

 Safety & Integrity

We operate in an extremely remote area and the safety of our guests and crew is always top priority. We have a 100% safety record and our staff members are all accredited with CPR and first aid. We pride ourselves in conducting our hunts with a commitment to being 100% legal, ethical, and safe. We want our hunters to rest assured that they will have an outstanding Alaska hunting experience and not have any worries while hunting in a challenging wild area.
#4

 Exceptional Lodging

With a modern lodge that was completely renovated in 2016, you can rest assured that you will have a comfortable and welcoming home away from home.  We have all the amenities a traveling waterfowler needs and then some. We have huge mud/utility room to ensure that your gear will be dry and warm every morning, while also providing a spacious area to get dressed for your adventures. The heated mud rooms also contain a washer and dryer, boot dryers, freezers, gun cleaning tables and sink in addition to ample hangers to keep your gear organized and ready to go! Our guests can also expect hearty, flavorful meals to keep them fueled up for their adventure. In addition, our lodge has a large lounge area as well as two full bathrooms with plenty of hot water for everyone.
#5

Results

Our results are unparalleled and are the result of our 100% commitment to producing the best duck and goose hunts in Alaska.

Four Flyways Outfitters pioneered guided sea duck hunting in the Cold Bay/Izembek area. Our hunters have taken more Pacific Common Eiders in one season than the rest of the other guided hunters in the state combined. We will continue to produce the best combo sea duck, Brant, and other waterfowl hunts for our guests.

Please check out our photo gallery below showing our success hunting for Pacific Eiders, Harlequin, Oldsquaw, Scoters, and more out of our Cold Bay lodge and for King Eiders during our January hunts on St. Paul Island.

Our testimonial page is full of past hunters who have had great hunts with us.
Hunt Price and Dates
Cost is $5,900.00 per hunter
Hunters will arrive on a Saturday in Cold Bay and depart the following Saturday which allows for 6 full days of guided hunting for a variety of species
Our sea duck and Brant combo hunts start in early November and go through December 16th, which is the last day of the season in Unit 9 in Alaska
We cater the hunt to each group's goals for their hunts
The weather during this time of year can be extreme and it will often limit what we can do on certain days in the open waters of Cold Bay. With this in mind, we have multiple backup plans on weather days for hunts in the Izembek National Wildlife Refuge, in which we have a permit to guide.
Contact us today for more information on our hunts.