Lodging
A lodging experience designed to maximize your comfort and relaxation between hunts.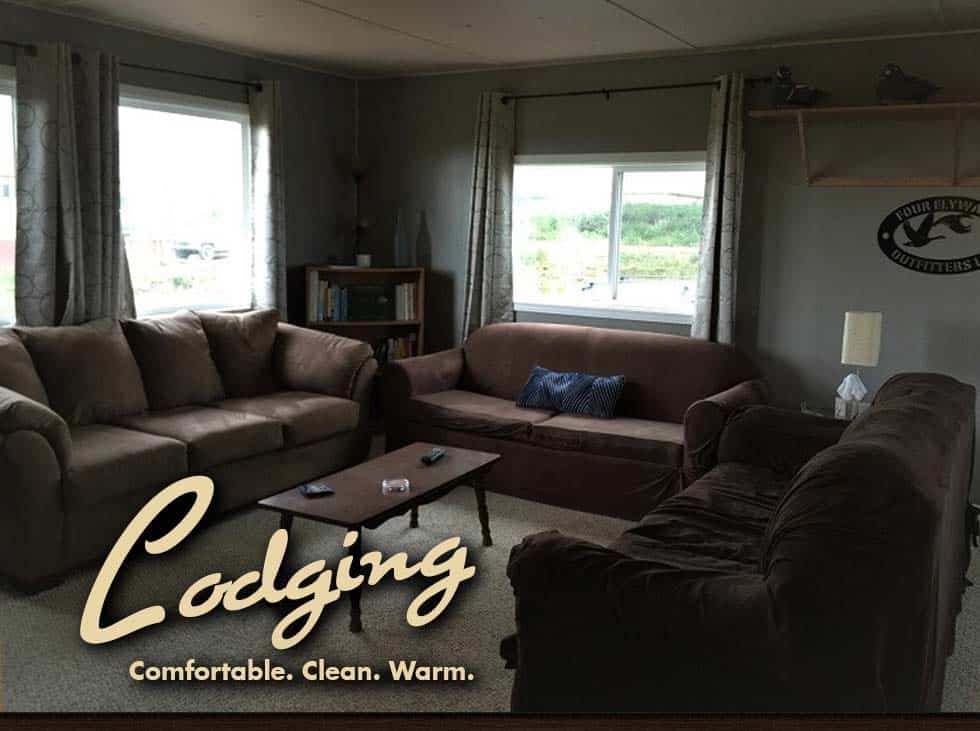 Main Features
Our lodge is our home, and we are proud to welcome guests into our new, recently renovated location to provide you with a clean, warm, comfortable place to rest up for the next day's adventures!
Our four guest rooms accommodate two people per room with the following amenities:
New Serta twin beds, 100% cotton sheets, warm blankets and two fluffy, soft pillows per bed.
We have two full-size bathrooms with plenty of hot water for everyone. Towels and washcloths are provided.
Each room has plenty of space with shelves and hangers for your things.
Our two utility/mudrooms provide a warm space for drying your gear along with plenty of boot dryers.
We recently added a washer and dryer for our guest's convenience.
When not in the field, our guests enjoy our clean, comfortable lounge area with a large screen HDTV, DISH Satellite, DVD player and refrigerator for guest's snacks and beverages. The lodge is located in the town of Cold Bay, within walking distance of the airport, City Library, and the Bearfoot Inn's grocery and bar.
Housekeeping
The lodge is cleaned daily, however, we do not go into our guest's rooms.
Outside shoes and waders are not allowed in the house, so please bring a pair of house shoes or slippers for use indoors. As always, please do not hesitate to let us know if you need additional blankets, pillows or towels and we will be happy to accommodate you.
Meals
Guests can expect delicious, hearty meals prepared by their cook to keep you fueled up for daily excursions.
Guests begin their day with a hearty breakfast ranging from the traditional eggs, bacon and pancakes to breakfast bread puddings, steel-cut oatmeal, and frittatas.
Packed snacks are provided and taken with you since you will usually be hunting or fishing during lunchtime, but when you do come back to the lodge for lunch, you can expect anything from salmon quiche and savory French Onion soup to gumbo. Upon arriving back at the lodge at the end of the day, guests will enjoy dishes that run the gamut from baked salmon, rosemary-garlic roast pork, Beef Bourguignon, Gumbo, Chicken with Dumplings and pizza made from scratch, among many others.
Delicious…
The cook can also prepare some of the fish or fowl that guests bag if they want. Bread is made from scratch along with cookies, bars and other treats and delicious desserts. No one will go hungry here!
More options…
The Bearfoot Inn has a variety of snack food and beverages available if you desire something other than what is provided. We do not provide soda or mixers. A wide variety of soft drinks and mixers are available at the store for around $1.00 per can.
Let us know…
We will make every attempt to accommodate any food allergies or intolerances that our guests may have, but wheat, corn, nuts, dairy and fish/shellfish are in use regularly, so be sure to bring any allergy or lactose-intolerance medications. If you have a serious food allergy, please advise us ahead of time so we can plan accordingly.
Communication
A phone is available in the common area of the lodge, and guests should bring calling cards for long-distance calls.
Most cellular carriers will not work out in Cold Bay, but if you have AT&T, you should be able to make and receive calls.
DISH Satellite TV is provided in the common area, and we do subscribe to the sports package. We would be happy to record sporting events (when available) for you to watch when you return from the field.
Wi-Fi
In remote Alaska, the internet does not operate the way it does in urban areas. The speeds are significantly lower, and Cold Bay residents have a limited amount of data per month. Wi-fi access is available at the lodge in the morning during breakfast and in the evening for a limited time to allow guests to remain connected for e-mail. Streaming audio or video, FaceTime, Skype or downloading large files uses up our monthly data allowance very quickly and we request that guests use the City Library (less than a block away) if those services are absolutely necessary.
The lodge is also our home, and we take pride in being able to offer our guests not only exceptional hunting, but a home-style experience when not in the field. Your comfort and safety are priorities for us, and we want your whole experience to be excellent.