Alaska Cast & Blast
Alaska Fishing and waterfowl hunting with professional outfitters...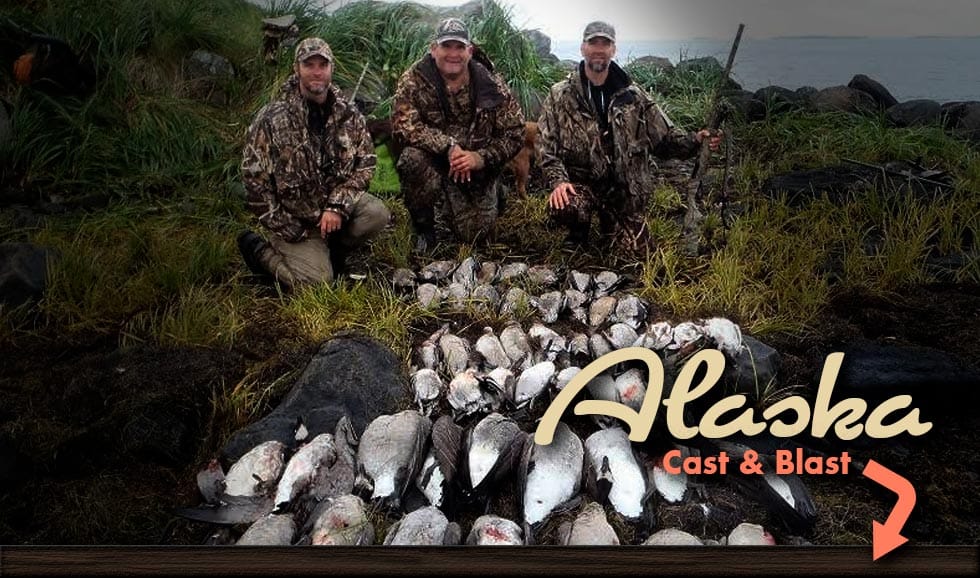 Top 3 Reasons to join us on an adventure in Cold Bay, Alaska during September…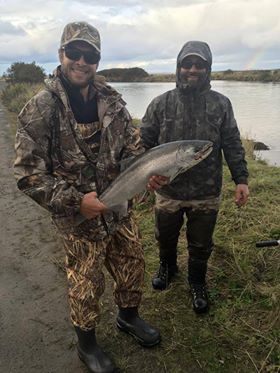 September marks the beginning of our season in remote Cold Bay, Alaska.
September can be summed up in one word: FUN.
With 14+ hours of daylight and many options for different fishing, hunting, and wildlife excursions, this is the perfect time and place for your dream trip to Alaska.
Most September days allow combinations of activities, such as fishing the local streams for Silver Salmon, Dolly Varden, and some Chum Salmon. Guests are encouraged to bring their own fishing gear, or they can use our lodge rods. We offer fly, bait cast, spinning, and related tackle for our guests to use.
#1

Large & Unique Waterfowl Population

Izembek Lagoon provides a unique environment for hunting and just witnessing the highest concentration of Pacific Black Brant anywhere. You will never hear us say 'you should have been here last week.' The entire population of Brant stage at Izembek during the fall, with peak numbers from mid-September until late October. January counts reveal 50,000+ Brant overwinter in the Izembek/Cold Bay area.

Alaska residents and non-residents are now be able to take part in a limited Emperor Goose hunt in the Izembek/Cold Bay area. We also have large numbers of Cacklers that stage at Izembek during September and October in addition to a wider variety of puddle ducks and divers.

"I have hunted with Four Flyways Outfitters at Cold Bay on three different occasions. What a spectacular variety for the waterfowler…where else can one hunt puddle ducks, divers, sea ducks, Pacific black brant and two subspecies of Canada greese, all in one trip? Given the right timing, there is also freshwater fishing for salmon and saltwater fishing for halibut! All of this adventure takes place amid spellbinding scenery and a fascinating array of wildlife, including brown bears, red foxes, sea otters, bald eagles and many others. I have been many places in search of the world's best wingshooting, and can honestly say that Cold Bay is at the very top of my list."
– J. Crews
#2

 Excellent Silver Salmon Fishing!

Our Silver (Coho) Salmon are a great eating and exceptional fighting fish. We will clean and vacuum pack your catch so you can enjoy them long after your trip has ended. We have a variety of lodge rods available; however, serious anglers are encouraged to bring their favorite rod(s). 
#3

 Fun Times in Wild Alaska

Here's some of the fun things you can do…
Fishing for salmon, hunting Izembek Lagoon for Brant, Cacklers, and ducks, or hunting Cacklers on the tundra
Ptarmigan hunting, beach combing, and wildlife tours in the Izembek National Wildlife Refuge
Our September guests often make it a family event by bringing spouses and children to share in the fun
The milder temperatures make this time ideal for those looking for a wide range of activities
The long days allows us to customize your experience so you can relax and enjoy your trip

"Cold Bay/Izembek NWR should be on every serious waterfowl hunters bucket list. As an avid waterfowler that has been lucky enough to see a wide variety of birds and locations, I consider one of the top destinations in North America. It is one of those places that you will want to visit again and again. Captain Jeff and his crew are experienced, safe, and most important, passionate about the special resource that they get to share with their clients. A hunt with Four Flyways is truly an adventure of a lifetime!
Feel free to list me as a contact for both Cold Bay and St. Paul. I really like helping first timers plan their trip."
J.R. McCulley
Ducks Unlimited Regional Director, Eastern Iowa
319-759-4752
Hunt Price and Dates
Cost is $5,000.00 per person
You will arrive on a Saturday in Cold Bay and depart the following Friday, which allows for 5.5 days of guided hunting and fishing for a variety of species
Our early season combo hunts start September 1st and goes through the end of October
We cater the hunt to each group's goals for their hunts
The weather during this time of year ranges from the 40's to 60's and we often have some windy and rainy days
Contact us today for more information on our hunts.