Alaska King Eider Hunt
King Eider hunting with professional outfitters...
The five most important reasons to hunt for King Eiders on St. Paul Island with Four Flyways Outfitters…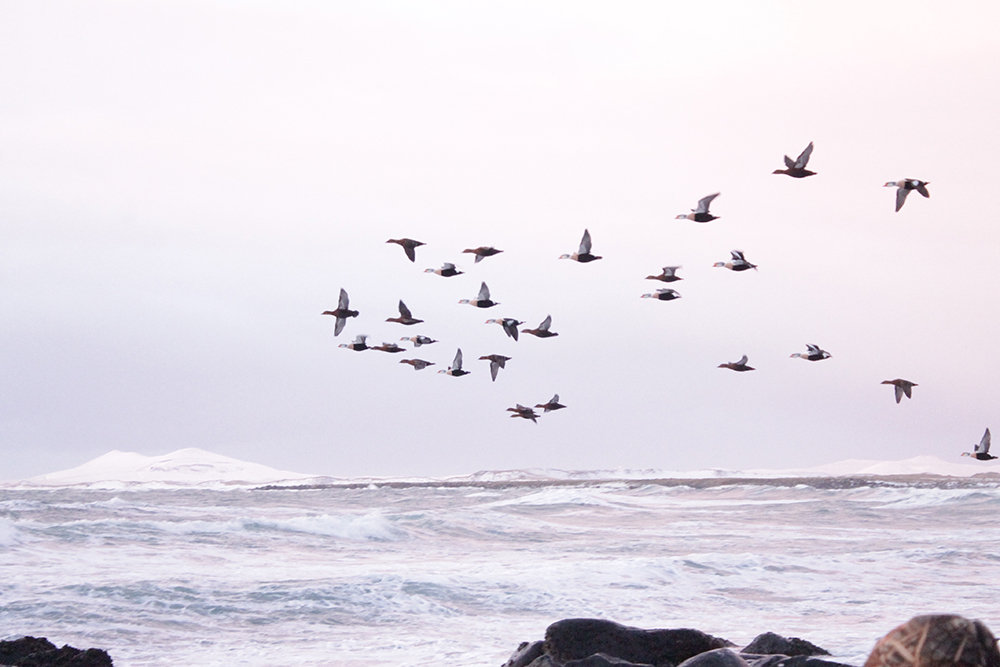 It is a goal of many waterfowlers to hunt King Eider, Harlequin, Long-tailed ducks, and more in Alaska.
Let us help you fulfill your dreams of an unparalleled hunting adventure for sea ducks in one of the most remote areas of North America.
Nowhere else on earth has matched the St. Paul Island area for success on King Eiders while also utilizing the finest gear and enjoying the comforts of fully modern lodging.
Leave your worries behind and trust in our 10+ years of experience hunting the island area and 20+ years of living and working in remote Alaska.
We are committed to providing the most rewarding and safe waterfowl hunts possible.
#1

 Experience

Captain Jeff Wasley first moved to Alaska in 2000 and has guided world-class waterfowling adventures every fall since 2002 in Cold Bay where he owns his home and lodge.

Jeff also co-founded and co-owned Alaskan Eider Outfitters, guiding out of St. Paul Island since 2010.

Going forward, Jeff will be offering guided King Eider hunts through Four Flyways Outfitters.

Before guiding, Jeff gained a wealth of remote experience in Alaska while working, hunting, and exploring in a wide variety of other Alaskan coastal areas along the way including Dutch Harbor, the Yukon-Kuskokwim Delta, Nelson Lagoon, Cordova, and many more.

Working year-round in the early Alaska years as a field wildlife biologist studying Alaska's sea ducks and geese earned Jeff experience that allows him to provide high quality experiences in even the most remote destinations.

St. Paul Island and the surrounding Bering Sea have been made famous by the TV show Deadliest Catch.

This is not the area to have inexperienced guides and captains.

You want to have a safe, productive, and memorable hunt.

More than any other waterfowling destination, experience matters on St. Paul Island.
#2

 Gear

With our vast experience on the Bering Sea and other coastal areas of Alaska we have learned which gear is going to help put our guests in a position for success.

We know that this is an extremely special hunt for some amazing sea ducks.

We want our hunters to experience the absolute thrill of having King Eiders decoy and all the other sights and sounds of a hunt on the open sea.

We utilize powerful and safe boats designed to be used in open ocean environments.

Handmade decoys, quality safety equipment, and more are utilized for our hunts.

Neoprene wader use is also provided for the hunt, so save space packing and leave your bulky waders at home!
#3

 Safety & Integrity

We operate in an extremely remote area and the safety of our guests and crew is always our top priority.

We have a 100% safety record and our Captains are all accredited with CPR and first aid as well as licensed by the US Coast Guard.

We pride ourselves in conducting our hunts with a commitment to being 100% legal, ethical, and safe.

We want our hunters to rest assured that they will have an outstanding Alaska hunting experience and not have any worries while hunting in a challenging wild area.
#4

 Exceptional Lodging

With modern lodging, you can rest assured that you will have a comfortable and welcoming home away from home.

We have all the amenities a traveling waterfowler needs and then some. Including:
washer and dryer
boot dryers
freezers
gun cleaning tables
and sink available to our guests
After and before the hunts guests, can expect hearty, flavorful meals to keep them fueled up for their adventure.
The Island also offers some unique sightseeing and local cultural experiences.
The port is often busy with multiple commercial crab fishing boats offloading their catch.
#5

Results

Our results are unparalleled and are the result of our 100% commitment to producing the best duck and goose hunts in Alaska.

We will put our guests in position to get their King, and we will do it in a safe and ethical way.

This is a popular hunt so please contact us now to get your hunt in the books.

The COVID Pandemic has furthered the demand for these hunts as the Dec 2020-Jan 2021 season was cancelled.

Please check out our photo gallery below showing some of our favorite shots from recent our King Eider hunts.

Our testimonial page is full of past hunters who have had great hunts with us.
Hunt Price and Dates
Contact us for pricing and availability
Five full days of guided hunting
Our king eider hunts start in late December and go through January 22nd
Contact us today to book for this prized hunt, bookings are generally required a year or more in advance 
Contact us today for more information on our hunts.